Animal oncology
Share This Everywhere!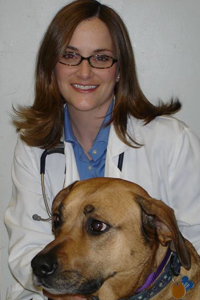 Dr. Lorin Hillman, DVM, DACVIM (Veterinary Oncologist)
Dr. Lorin Hillman is a 2003 graduate of the Auburn University College of Veterinary Medicine. Following graduation she completed an internship at Kansas State University in small animal medicine and surgery. She pursued a three year medical oncology residency at the University of Illinois from July 2004 through July 2007. During her residency Dr. Hillman participated in research projects for canine osteosarcoma and feline oral squamous cell carcinoma. After completing her residency Dr. Hillman returned home to Memphis and joined MedVet in August 2007. Dr. Hillman is board certified in Veterinary Oncology, and is a Diplomate of the American College of Veterinary Internal Medicine. She is the only board certified Veterinary Oncologist in the greater Memphis area.
Dr. Hillman has extensive training in all areas of cancer treatment and she is available to consult with you about the best treatment plan for your pet. The most important aspect of cancer treatment is maintaining a good quality of life. The oncology team at MedVet works together to help you and your pet through all phases of cancer treatment