Avian-exotic-zoology
Share This Everywhere!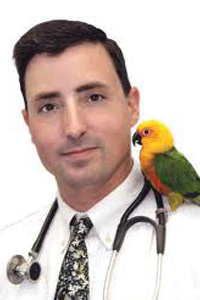 Dr. David Hannon, DVM, Diplomate, ABVP-Avian
Dr. David Hannon is a 1993 graduate of Auburn University College of Veterinary Medicine. While at Auburn, he served as the Student Medical Director for the Southeastern Raptor Rehabilitation Center, and he interned at the Knoxville Zoo, Knoxville, TN, and the Audubon Zoo, New Orleans, LA.
Dr. Hannon has practiced small and exotic animal medicine in the greater Memphis, TN area since June 1993, and served as the primary veterinarian for Lichterman Nature Center from June 1993 until its Wildlife Resource Center was closed in September 1998. He is an active MEMBER of the following organizations:
American Board of Veterinary Practitioners (ABVP) – Diplomate
American Veterinary Medical Association (AVMA)
Tennessee Veterinary Medical Association (TVMA)
Memphis/Shelby County Veterinary Medical Association (MSCVMA – Board MEMBER 1997-present, President 2000)
MEMBER
Association of Avian
Veterinarians (AAV)
Association of Reptile and Amphibian Veterinarians (ARAV)
Association of Exotic Mammal Veterinarians (AEMV)
American Association of Zoological Veterinarians (AAZV)
American Association of Wildlife Veterinarians (AAWV)
National Wildlife Rehabilitator's Association (NWRA)